---
Postal Service Releases Stamp Saluting Tourism in FSM
PALIKIR, Pohnpei (FSM Information Service). The FSM Postal Service issued the fourth and final set in the FSM's series of stamps saluting tourism in the nation's four states on March 13, 1996. Designed by Pamela Kattine, a resident of Pohnpei, this set of four stamps beautifully depicts some of the age-old traditions and cultural symbols of the state of Yap.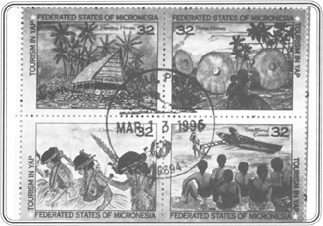 The first stamp, Meeting House, portrays a typical thatched structure used by chiefs to conduct meetings concerning the wwelfare of the village. The second stamp, Stone Money, shows the large limestone coins that decorate almost every Yap village and give the country the nickname "The Island of Stone Money. The third stamp, Churu (Dancing), depicts sitting dancers performing Churu, a form of storytelling delivered through dance. Finally, the fourth stamp, the Traditional Canoe, reflects the canoe's importance to Yapese life and culture.
The block of four mint stamps is available at the face value price of $1.28 and the combination first day cover with the se-tenant block of four stamps is available at all post offices and the Philatelic Bureau in Kolinia, Pohnpei, beginning on March 13, 1996.
---
For further information on this release, please contact:
FSM Office of the President
Public Information: Press, Radio, Video
P.O Box 34
Palikir Station, Pohnpei, FM 96941
Tel.: (691) 320-2548/2092
Fax.: (691) 320-4356
e-mail: fsmpio@mail.fm
http://www.fsmpio.fm/